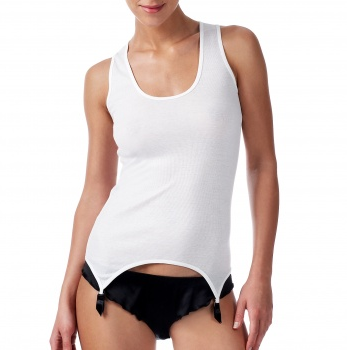 Never thought I'd see this, but Kiki has combined a tee with a garter. Read all about it after the jump.
"There are two tragedies in life. One is not to get your heart's desire. The other is to get it." -George Bernard Shaw
Anyone who knows me, knows of my love of the "wifebeater". Beaters are a wardrobe staple for me. Throw on a beater, usually white and usually with a colored bra, some fab accessories, heels and a great coat/jacket and you have the "glamour Whore" uniform. And it's sexy. And glamorous if you wear it right. I also have made no secret of my love for lingerie. If I had the time I would start another blog dedicated strictly to lingerie.
So imagine my excitement when perusing the world wide web today and I came across the "t-shirt garter". Yup. A wifebeater with a garter belt attached. I know!! I damn near had a heart attack. I had to investigate this. And what I learned was that a fabulous line of luxury lingerie had somehow eluded me for the past couple of years. I was excited about my discovery and disappointed in myself for not knowing about it already. I assure you, it won't happen again. So, I felt it only right to introduce to my newest "lust have" and current favorite line of lingerie.
Meet Kiki de Montparnasse!! A line from their "About" page on the company website: "Kiki De Montparnasse is a luxury fashion and lifestyle brand that celebrates intimacy and inspires the romantic imagination." I wholeheartedly agree. It's been a longtime since I oohed aand aahed so much... My neighbors probably thought I was enjoying a little intimacy and romance...lol...nope, just lusting over fabulous boudoir couture. T-shirt garters, boyfriend shirts, gorgeous blindfolds(yes, I said blindfolds), capelets (I LOVE LOVE LOVE capelets!!), bed sets, fun panties that teach you French (bad words, but still...)!!!
Written on Cult Indie