A Russian Jew, a Jehovah's Witness and Princess Snowflake walk into a bar...
It's that time of year again, which for most means it's the time to spend time with family, give praise to a baby in a basket, and get lots of presents from some overweight home invader. For us, it's something completely different. You see, while most can successfully answer the multiple choice questions of "Which holiday do you celebrate?" with the very traditional defaults of Christmas or Chanukah, we're the lucky ones that gets to choose "Other".
Dress is T by Alexander Wang, Boots by Chanel, Jacket is See by Chloe, Clutch by Rebecca Minkoff
Trench by Burberry, Sweater & Pants by Vince, Scarf by Maison Martin Margiela x H&M, Bracelet by Volume & Tone, Watch by Diesel, an early New Years gift this lumbering brut of a man received. It's an exclusive launched along with the release of The Dark Knight Rises which hasn't left his wrist since he pulled it out of it's case. It lights up like the bat signal and was one of only 5,000 made.  Such a rugged looking watch for my Batman obsessed man. So the perfect gift. [Available at Diesel, $325]
Back in the day, when the USSR was still a thing, my family was living la vida Stalin in Commieville, Jewish by birth, but not by tradition, due to the countries extremely anti-Semitic hostility towards the chosen people. So, I grew up Jewish, merely by bloodline, and missed out on being able to get my yid on with any of the traditions that made Jews, Jews. No Passover, no Yom Kippur, and definitely no Chanukah. Instead, my family practiced a common tradition amongst Russians, the celebration of New Years, which was noted for having characteristics similar to Christmas, but without all that "birth of the lord and savior" mess.
In Russia, we'd celebrate the "New" New Year, which was in remembrance of the countries switch from the Julian Calendar to the Gregorian calendar, the one we all recognize today. Taking place from Dec 31st - Jan 1st, the celebration included all the goodness that comes with JC's birthday in America, including Santa (Ded Moroz in Ruskie), a New Year's tree, and of course, a years worth of gift giving which would happen on the morning of the 1st. Best of all, the holiday also included Snegurochka, aka Santa's Grand Daughter, a girl portrayed as a Snowflake Princess in blue and white who would help the old guy pass out presents to everyone on the nice list.
She was probably my first fashion icon. Chick knew how to accessories for the winter.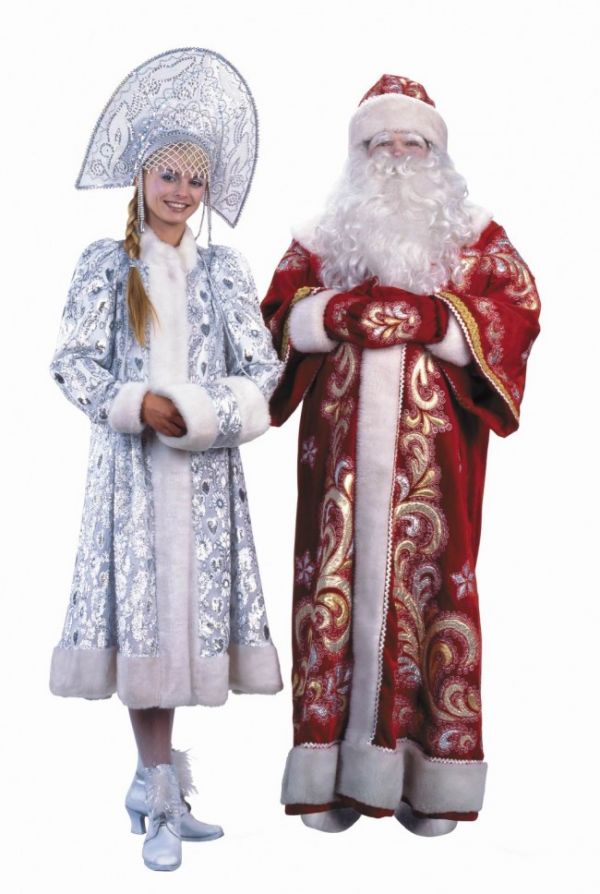 For Saynt, Christmas was the Devil, literally.
Growing up J-Dub (aka Jehovah's Witness) , he couldn't celebrate any holidays cause of their "Paganistic roots". No birthdays, no Halloween, and especially no Christmas, so while everyone else was waking up to presents under the tree, he was living it up Woody Allen-style on the 25th, talking about the weather with Mr. Moviefone and Chinese food delivery guys. I often think it's funny how our lives parelled, me, growing up as a Jew without Judaism, him, a Christian without Christmas.
So when, we came together, it was kind of perfect. We made New Years our thing, a holiday that had nothing to do with Jesus, and everything to do with all the things that make his b-day awesome. We've kind of created our own holiday, and with it, our own traditions. Every year, we buy a tree, dress it in a non-festive outfits, fill it's base with presents and await for New Years Day, when we open presents and sip cocoa, while I'm dressed like a sexy Snegurochka, him, a woodsman on my naughty list... wait, sorry, said too much...
Lets end this.
Basically, it's our holiday. It might not be what makes everyone else's season merry and bright, but celebrating together is all that matters for us.